©
avesdeportugal.info - Todos os direitos reservados. Desenvolvido por
CiberAjuda.com

Quinta do Lago

Lying a few kilometres west of Faro, Quinta do Lago is a luxury
destination in the Algarve. This site is also a first-quality destination for
bird watchers, not only by the variety of species that can be found here,
but above all for ease of observation, due to the unusual tameness
shown by the birds at this location.

Between the lagoon and the dunes lies the so called "trilho da Ria" (ria trail), which crosses a salt marsh and
old salt pans. This trail, much sought after by walkers, is ideal for watching waders, such as Black-winged
Stilt, Common Redshank, Bar-tailed and Black-tailed Godwits, Common Sandpiper and Kentish Plover. A few
passerines can also be seen, such as Yellow Wagtail and Crested Lark. This trail continues eastwards and
ends near Ludo, but it should be avoided in the middle of the day, as it does not provide any kind of shadow.

The existing tanks along the trail are a good spot to look for waders

The lake of São Lourenço is a great place for watching ducks and other water birds

Most interesting species:
Little Bittern, Glossy Ibis, Red-crested Pochard, Purple Swamp Hen, Black-winged Stilt, Kentish Plover,
Red-necked Nightjar, Crested Lark, Crag Martin, Short-toed Treecreeper, Azure-winged Magpie,
Black-headed Weaver

Other species:
Little Grebe, Great Crested Grebe, Cormorant, Little Egret, Grey Heron, White Stork, Wigeon, Gadwall,
Teal, Mallard, Shoveler, Common Pochard, Tufted Duck, Moorhen, Eurasian Coot, Grey Plover,
Common Snipe, Bar-tailed Godwit, Black-tailed Godwit, Common Redshank, Greenshank,
Mediterranean Gull, Black-headed Gull, Kingfisher, Hoopoe, Meadow Pipit, Grey Wagtail, Yellow Wagtail,
Stonechat, Mistle Thrush, Cetti's Warbler, Sardinian Warbler, Chiffchaff

Rarities:
Blue-winged Teal, Ruddy Duck, Little Crake, Crested Coot, Red-necked Phalarope, Ring-billed Gull

Visit:

Quinta do Lago is composed mainly of villas and townhouses, some of them quite large. The whole area is
covered by large trees and some interesting birds occur here. Noteworthy is the Mistle Thrush, a bird usually
hard to see in Portugal but that here is quite easy to spot, as it sometimes lands on the lawns along the main
streets.
Other species occurring in the garden areas include Collared Dove, Blackbird and Azure-winged Magpie,
while the surrounding pine forests hold Short-toed Treecreeper.

The
lake of São Lourenço
is the main observation site at Quinta do Lago. To get there, one should drive up
the avenue André Jordan until roundabout number 6 is reached and then follow the Rua Paiva and veer right
on Douro Street. A few hundred metres ahead, a small unpaved track to the right leads to a place where
parking is possible, and from there one can proceed on foot. Just in front of this pond there is a wooden
shelter, with two floors, offering a good view over the water. Here one can see several species of waterfowl,
often at a short distance. Regular species here include Common Pochard, Tufted Duck and Red-crested
Pochard - all these species which are currently very difficult to find elsewhere in Portugal. Apart from these,
there are usually several other species of waterfowl, including Wigeon, Gadwall and Shoveler. This lake also
provides excellent opportunities to watch Little Bittern (which can be seen here throughout the year) and
Purple Swamp Hen, along with Eurasian Coot, Great Crested and Little Grebes and, more rarely, Glossy Ibis.
Other water birds turning up here regularly include Common Snipe, Kingfisher and Grey Wagtail.

The wooden shelter near the lake of São Lourenço is a great place to observe ducks and other waterfowl.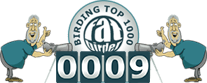 District:
Faro

County:
Loulé

Where it is:
in the central Algarve, about 10 km south of Loulé; if coming through the N125, one should turn
south at Almancil (10 km west of Faro), following signs to Quinta do Lago.


If you want to know other places to watch birds in this region, we suggest: