©
avesdeportugal.info - Todos os direitos reservados. Desenvolvido por
CiberAjuda.com

Alvor estuary

Lying between Portimão and Lagos, the Alvor estuary forms a large and
complex estuarine system, which is fed by the Odeáxere and Arão
streams from the west, and by the Farelo and Torre streams from the
east, all of which flow from the hills of Monchique and Espinhaço de Cão.
The estuarine area is separated and protected from the sea by two
sandbars, the Alvor beach on the east side and the Meia-Praia to the
west, which encircle two headlands, the Quinta da Rocha and the

Most interesting species:

Stone Curlew, Kentish Plover, Oystercatcher, Caspian Tern, Little Tern,
Crested Lark,
Bluethroat,

Melodious Warbler, Woodchat Shrike,
Azure-winged Magpie


Other species:

Cormorant, Cattle Egret, Little Egret, Greater Flamingo, Black-winged Stilt, Ringed Plover, Grey Plover,
Sanderling, Dunlin, Black-tailed Godwit, Whimbrel, Turnstone, Yellow-legged Gull, Sandwich Tern,
Little Owl, Bee-eater, Hoopoe, Yellow Wagtail, White Wagtail, Robin, Black Redstart, Northern Wheatear,
Reed Warbler, Garden Warbler, Blackcap, Chiffchaff, Spotted Flycatcher, Pied Flycatcher, Corn Bunting


Rarities:

Brent Goose, Ferruginous Duck, Eider, Long-tailed Duck, American Golden Plover, Sociable Lapwing,
Semipalmated Sandpiper, White-rumped Sandpiper, Pectoral Sandpiper, Marsh Sandpiper,
Solitary Sandpiper, Long-tailed Skua, Slender-billed Gull, Ring-billed Gull, Royal Tern, Little Swift,
Richard's Pipit, White-crowned Black Wheatear, Paddyfield Warbler, Icterine Warbler,
Yellow-browed Warbler, Rustic Bunting

During late summer and early autumn, the agricultural
fields attract hundreds of passerines seeking rest or
feeding areas during their long migration. Among the
species most regularly recorded during this time of year,
the following stand out: Northern Wheatear, Reed,
Melodious and Garden Warblers, Blackcap, Chiffchaff,
Spotted and Pied Flycatchers, among others.

In winter, common birds include White Wagtail, Robin and
Black Redstart. Throughout the year it is also possible to
find Stone Curlew.

When arriving at the car park, it is better to proceed on foot in order to explore the wetlands (marshes and
estuary); the best approach is to walk along the dike that surrounds an area of marshland. In this area of
saltmarsh, there are usually Flamingo, Grey Heron, Little Egret, Black-tailed Godwit, Kentish and Ringed
Plovers, Black-winged Stilt and many other shorebirds, as well as Crested Lark.
In the estuary itself, during low tide, Yellow-legged Gulls can often be seen resting on uncovered sandbanks.
It is worth scanning the flocks, as there is always the opportunity to find other bird species among them, such
as Cormorant, Oystercatcher, Sanderling, Sandwich Tern or even Caspian Tern. During the breeding season,
Little Tern is often seen feeding here – this bird nests in the dune system that separates the estuary from the
sea.

Along the salt pans, in the mud flats along the Odiáxere stream, the presence of Common Sandpiper,
Turnstone and Grey Plover does not go unnoticed. Here, and throughout the dikes during the winter months
the Bluethroat is usually around, although this species hides a lot. In summer Yellow Wagtails show their
graceful flight in the innermost areas of saltmarsh.
From the village of Alvor (which lies to the east), the estuary can be explored on foot along the dunes. On the
inner side, sand banks emerge during low tide; birds here include Yellow-legged Gull and Sandwich Tern. In
the sand banks near the mouth of the estuary, there are often Oystercatchers, Turnstones and Sanderlings,
among other waders. Crested Lark, Kentish Plover and Little Tern can be seen on the dunes, where they
breed.

The peninsula of Quinta da Rocha is covered
by fig, olive and other trees

In the marshes of the Alvor estuary, several species of shorebirds gather during high tide

Visit:
towards opposite the village. About 100m ahead, you will cross the railway line (this is the Lagos branch of
the Algarve Line). You are now entering Quinta da Rocha, a peninsula that leads to the Alvor estuary.

Proceeding straight forward, the road goes through farmland, largely abandoned, which is dominated by
cultures composed by small patches of almond, olive, carob, pomegranate, quince and fig trees, as well as
some small citrus orchards and wastelands.
Along this route it is easy to see several species of finches (Goldfinch, Serin, Greenfinch, Linnet), along with
Corn Bunting, Azure-winged Magpie and Hoopoe. During the breeding season, a Little Owl is often seen on
top of a telephone pole or on a ruined house. Cattle Egrets are commonly seen in the surrounding pasture
areas, usually close to cattle herds. In summer months, Bee-eaters and several species of hirundines show
their beauty and agility.

The diversity of habitats that can be found over a relatively small area - about 1,700 ha – enables the
birdwatcher to find a wide variety of waterbirds, seabirds and farmland birds.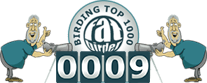 Best Season:
September to May


District:
Faro

Where it is:
The Ria de Alvor is located in the western Algarve between the towns of Portimão and Lagos. For
those coming from Lisbon, take the A2 and then the A22, leaving where signposted Alvor. To get to the Quinta
da Rocha, follow the EN125 and when reaching the intersection of Mexilhoeira Grande - a village located
between the towns of Portimão and Lagos, - turn south (left); 150 meters ahead cross the railway line and
proceed for about 2.5 km until you reach the marsh and the estuary. Here you can leave the car and explore
on foot. It is also possible to explore the Ria de Alvor from the dune system, in which case you should take the
direction of Alvor. Park the car in the Alvor riverside area and then walk between the dune system and the
estuary / marsh and return along the beach.


If you want to know other places to watch birds in this region, we suggest: