This is one of the best preserved salt-pan complexes in the country and it
is also of great interest for the visiting birdwatcher.

Visit:

The whole area may be covered on foot, and this is actually the best way to get here, either from Tavira or from
might not be accessible at all. The entire complex is an intricate tanks and ridges, and there are some paths
that can be walked without causing any disturbance to the birds. There are also some roads that allow faster
access to the area, such as the one linking between Tavira and the pier of the boat sailing to the Island of
Tavira. This road crosses an area where with several pans with several interesting birds, such as Caspian
Tern, Black-winged Stilt, Redshank, Kentish Plover. The Spoonbill tends to favour the areas lying near the
saltmarsh. Closer to Santa Luzia, it is possible to see Audouin's Gull, but this bird tens to occur in a private
salt complex, and permission should be sought to get in; additionally, care should be taken so as not to
disturb the birds. Access to this place is made from a dirt road that runs between Tavira and Santa Luzia and
which penetrates the ria, and where there a sign reading Sopursal (a company that owns the placec).
Common birds throughout this area include Flamingo, Avocet and Little Stint, among others; in winter, the
Grey Plover is also common.



Best Season:
all year, perhaps somewhat less interesting during the month of July and early August.


District:
Faro

County:
Tavira

Where it is:
In the eastern Algarve. This saltpan complex is located between the river Gilão, which flows just
past the town of Tavira, and the village of Santa Luzia, which lies immediately southwest of the town. It
comprises the area between these two locations and the channels of the Ria Formosa that run between the
barrier islands and Tavira itself. To get here, one can either leave the main road N125 following signs to
Santa Luzia, or use Tavira as a base for exploration.

If you want to know other places to watch birds in this region, we suggest:

Most interesting species
Spoonbill, Flamingo, Avocet, Black-winged Stilt, Kentish Plover, Audouin's Gull, Caspian Tern

Other species:
Grey Plover, Little Stint, Common Redshank, Sandwich Tern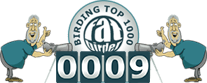 Santa Luzia salt pans